Nacogdoches Convention & Visitors Bureau
Nacogdoches is home to Stephen F. Austin University, is the Garden Capital of Texas, and location of the Blueberry Festival.
Contact Info
Website:
https://www.visitnac.com
Phone:
936-564-7351
Address:
200 E. Main Street, Nacogdoches, Texas 75961
Watch The Video
Read The Blog
It's no secret I have an affinity for East Texas towns. It's why I do what I do! While I can't claim a favorite, Nacogdoches has definitely captured my heart in so many ways. Maybe it's the quaint downtown or their well known love and support for local music. Maybe it's the college student influence that invariably brings good coffee shops and local stores. Wait, maybe it's the abundance of flowering plants and trees that bloom every Spring. Not to mention the rich history that is proudly displayed and shared by the community. I wanted to dig a little deeper into all those good vibes Nacogdoches puts off so I found the perfect person to enlighten me further. Sherry Chaney-Morgan has been the Executive Director of the Nacogdoches Convention & Visitors Bureau for the past 2 years. A former educator, Sherry is a graduate of SFA and went on to receive her certification in Travel & Tourism. She moved here with her 2 daughters from Conroe, Texas during a nasty ice storm. This stands out in her mind because despite the cold weather, her neighbors gave her a warm welcome into town.

Nacogdoches is the oldest town in Texas, incorporated in 1779. The main road, El Camino Real runs East to West. This made it possible for settlers who were traveling anywhere in the U.S. to come through the center of town. The main economies consisted of timber, cotton and dairy. Later came the poultry industry and today you will find both Tyson Chicken and Pilgrims Pride operating here. Nacogdoches being the first established town set the standard of how different municipalities were set up. It also boasts the first 2 story home in Texas, "Old Stone Fort" built by Spanish tradesman and pioneering settler, Gil Y'barbo. There is a replica on SFA's campus.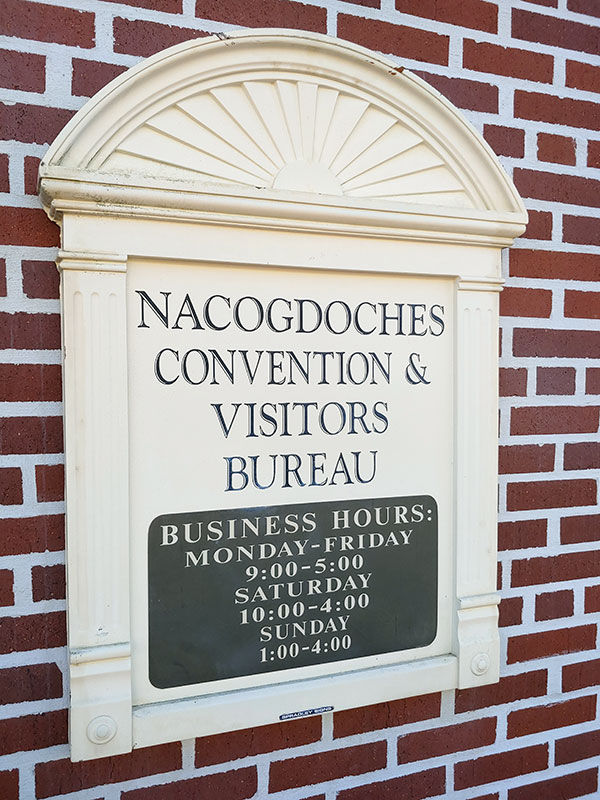 Stephen F. Austin University was founded in 1923 and is recognized for its school of forestry, education department and music department. SFA has given people a reason to discover Nacogdoches but the college is self-contained in the sense that students have all their needs nearly met on campus. One of the challenges for Sherry is connecting the 2 populations. SFA has a hospitality program and students are obligated to perform service hours and a work study program is coming in the Spring. This allows students the opportunity to intern and potentially fall in love with Nacogdoches so they may settle in and give back to the community that has helped educate them.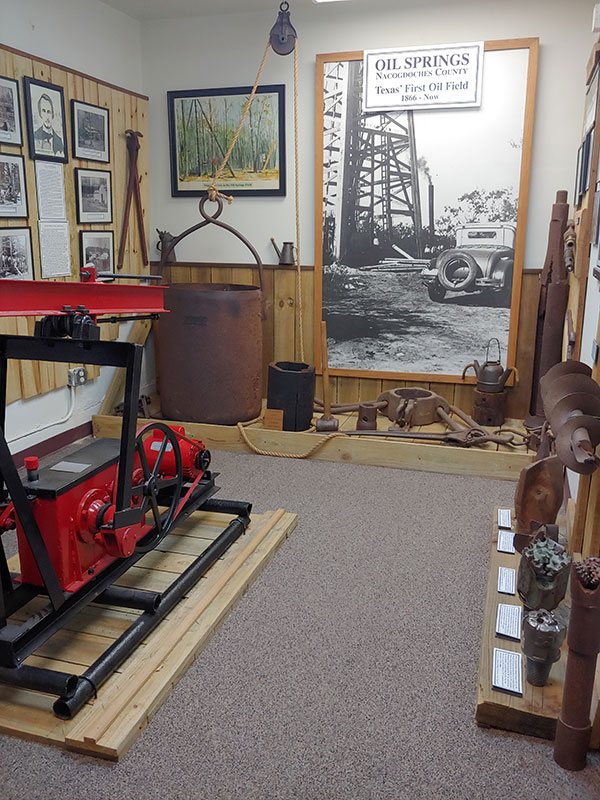 You have surely heard of Six Flags Over Texas amusement park that stands for the 6 different nations that have governed Texas (Spain, France, Mexico, the Republic of Texas, the United States and the Confederate States of America). Nacogdoches boasts 9 flags to symbolize the 3 rebellions that took place here. As with most of East Texas the Caddo Indians left a strong influence, a nod to the Indian's style of building, Mound Street is located at the end of Main Street. Missionaries are also an important part of Nacogdoches history. Father Antonio Margil was present in the late 1700's during a severe drought. He would pray daily for relief and could often be found walking the dry creek bed, striking stones with his walking stick. The tale says he struck a rock twice and discovered the water source that ultimately saved the town. That creek is known as Creek Lanana. You will hear Nacogdoches referenced as the "City between 2 creeks" for this reason.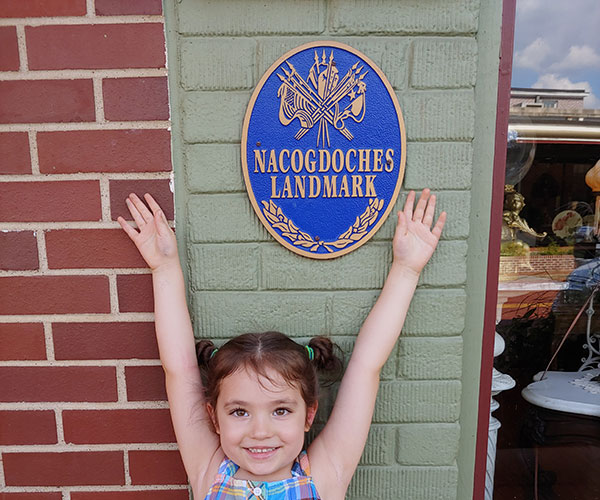 While Tyler gets all the hype when it comes to roses, Nacogdoches is known as the "Garden Capital of Texas". The work that has gone into preserving native plant and tree species over the years is applaudable. Azaleas, camellias, dogwoods and crepe myrtles are just a sampling of what you can experience when you take advantage of the places offering both guided and self-guided tours. Here is a link to more specifics, they are too numerous to list. How lucky are we!? https://www.visitnacogdoches.org/things-to-do/garden-capital-of-texas/
Nacogdoches or "Nac" as the locals call it hosts the State's only sanctioned Blueberry Festival the second Saturday in June. Organized by the Chamber of Commerce, it has evolved from humble beginnings to a nationally recognized celebration. A grassroots group of folks spearheaded the bluegrass music movement to go along with the festival. We attended last year and I can honestly say we were impressed with the organization of the event. The live music was a special highlight that introduced us to new bands and an appreciation for the musical history of the South. Vendors and shop owners alike were friendly and welcoming in spite of the large crowd that descends upon the town, seemingly all at once. The comradery between the City and local business owners is something that keeps us coming back time and again.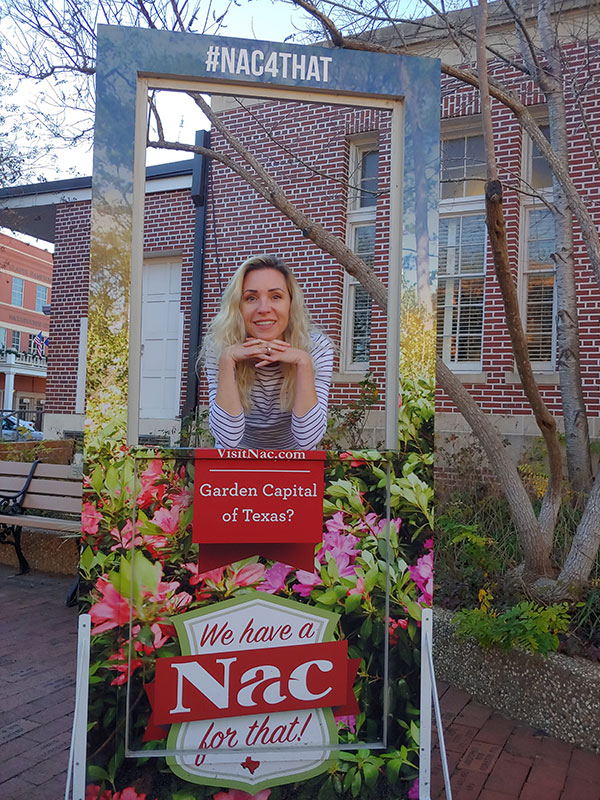 Another popular festival attraction is Dia de los Muertos which takes place the weekend prior to November 1st. Dia de los Muertos or, "Day of the Dead" has been embraced by the public library and Cole Arts Center as a way to share a cultural learning opportunity through food, art, story-telling and much more. Nacogdoches has seen a rise in popularity for the festival over the years and continues to add additional events to celebrate this tradition.
In addition to the above mentioned reasons to visit Sherry wants people to know about the 2 splash pads, hiking, biking, horseback riding, zip-lining, axe throwing, escape rooms, Farmer's Market (all year every Sat. 8 am-noon), shopping, dining, dog-friendly community that supports local artists, musicians and craftsman of all kinds. There is quite literally, something for everyone and the award winning slogan, "We Have a Nac for That" couldn't ring more true. Speaking of dog-friendly, I would be remiss if I didn't introduce you to Charlie the Frenchton, aka Charlie Doches, Pet Ambassador and local celebrity. While in the process of completing her Capstone project in marketing for her travel and tourism college, Sherry had an idea. Why not play up the preexisting pet friendliness of Nac and give people an easy and accessible character? While she initially had some reservations about people's reactions to a resident dog in the office she was met with such an overwhelming positive response she has no regrets. A local trainer stepped in and helped Charlie become an upstanding canine citizen. He is even sponsored by Texas Farm Products of Lone Star Feed and Fertilizer. Sherry says he is a welcome (flat) face to tired travelers and locals alike. You can visit him at the Convention & Visitors Bureau which also hosts a wealth of free information, exhibits and photo ops.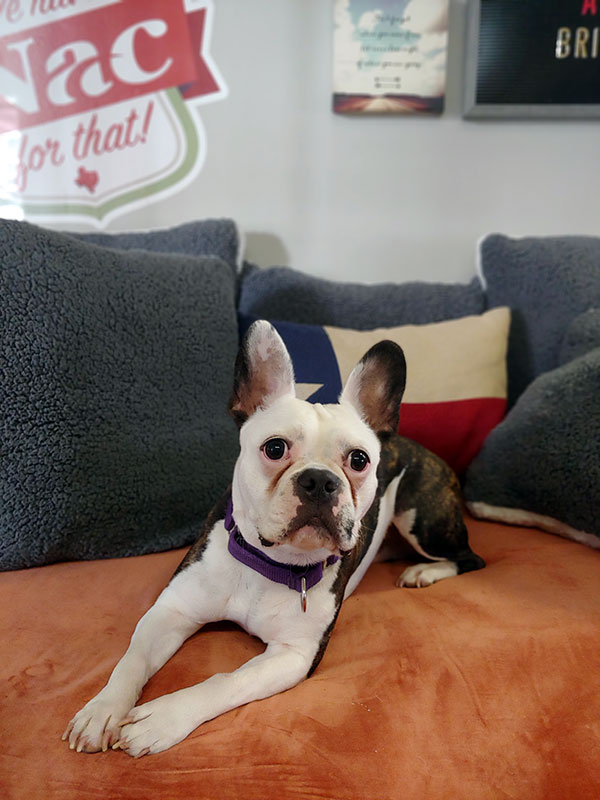 Personally Sherry and I agree that part of the appeal of Nac is the independently owned businesses that focus on quality products, often locally made that big box stores simply don't offer. There is a certain comfort in coming to a place like Nacogdoches that weaves its history into the present day. Sherry is an excellent story keeper and storyteller. She sees the value in passing on the rich history that makes Nac unique. We visit a lot of places in East Texas and this one keeps us coming back for more.
About The Blogger:
Ciara is a local East Texas blogger who is in love with the ETX Life. Her work can be found on ETXLife.com
Buy Nac Gear
Show your Nacogdoches pride by wearing some cool Visit Nac merchandise. Proceeds from all purchases go to support the award winning non-profit Nacogdoches Convention and Visitors Bureau.
Meet The Executive Director